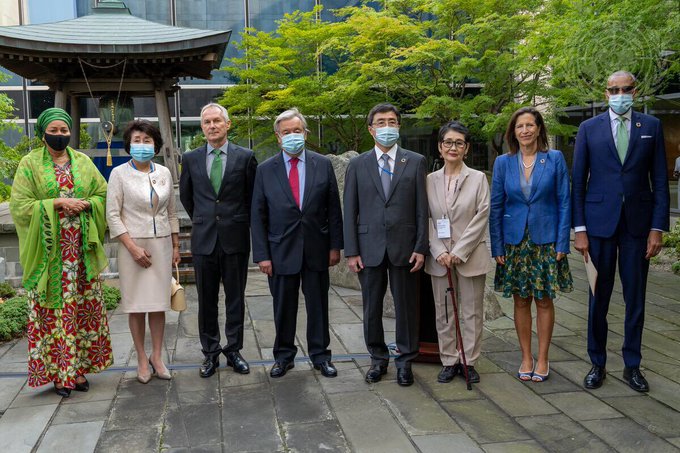 On September 16, the International Day of Peace ceremony was held at UN Headquarters, and Director Tomari and I participated in the ceremony.
Although the ceremony was small, as the Corona crisis has not yet ended, Secretary-General Guterres' serious and thoughtful speech made the ceremony solemn. He called for "the world to unite, not fight, to tackle the threats of poverty, hunger, and climate change," and rang the Peace Bell with a prayer. General Assembly President Korosi then rang the bell.
I was in a wheelchair, so I was outside the ceremonial circle, but Deputy Secretary General Amina, out of concern for me, invited me into the circle to stand by the UN Peace Bell. Secretary General Guterres also greeted me with a smile, and I was so moved by his kindness and his firm recognition of the history and significance of the Peace Bell that I involuntarily burst into tears.
The bell, seen up close, had a very nice bronze color that reminded me of its 68-year history. I was impressed by the golden glow of the words "Long Live World Absolute Peace," a prayer for world peace, and the crescendo symbol, which represents peace for those close to us.
I felt as if my late father, Chiyoji Nakagawa, was standing beside me looking up at the bell and saying, "Please do not give up and continue to pray for peace, one by one" even in a world of continuing conflict.
                                       Representative Seiko Takase
(Photo courtesy of the United Nations Information Center and Mainichi Newspapers)