Message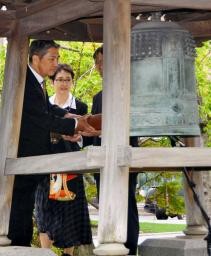 The United Nations celebrated its seventieth anniversary in 2015. To commemorate that special occasion, UN created a series of multimedia presentation and I am honored to have the opportunity to talk about the peace bell [see here].
In 1951, shortly after the WWII, there was a Japanese person by the name of Chiyoji Nakagawa from Uwajima, Ehime Prefecture in Shikoku, who donated a Peace Bell to the United Nations. The Peace Bell was the result of his journey to share his thoughts on peace with the world. Through his journey, people around the world donated coins, including gold coins and medals from Pope Pius XII. The Peace Bell was cast using them.
The Peace Bell was donated to UN with the belief "UN is the most appropriate organization that facilitates building peace," which Chiyoji Nakagawa, my father, had in his mind. I wish people around the world realize the Peace Bell of UN headquarters as a symbol of peace, when they hear the bell rung.
Nowadays we see again and again wars, civil wars, attacks by terrorists, and disputes, and people live under new anxieties and threats. Japan is the only country in history of man that experienced A-bombing in Hiroshima and Nagasaki during WWII.
I believe that it is the time for us to move forward with the Peace Bell. The Peace Bell is the only gift from Japan that UN has had accepted. I believe that we need to continue to pursue the world peace, share the story of the Peace Bell and the thoughts of Chiyoji Nakagawa on peace, and spread words that need to be inherited by new generations.
I would appreciate everyone's support for us.
Sincerely,
Seiko Takase
Representative
July 20, 2016
About Us
[Name]

Association for the Preservation of UN Peace Bell

[Status]

Registered as a General Incorporated Association as of 9 June 2015.

[Representative Office]

Contact: Seiko Takase
Location: Nakazawa, Tama City, Tokyo