The Peace Bell Regains Shiny Letters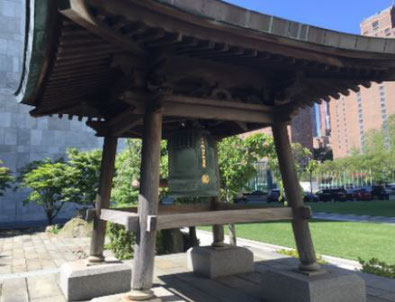 On 29th August, 2016, the UN PEACE BELL regained the golden shiny letters. The restoration work on the site was carried out by Mr & Mrs Kawahara at Oigo Seisakusho, the company that cast the miniature of the UN Peace Bell. The restoration project was undertaken by Association for the Preservation of UN Peace Bell.
[Photo by NY Seikatsu Press]
Book "The Story of the UN Peace Bell"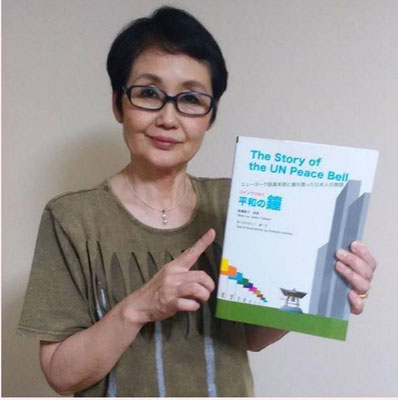 "The Story of the UN Peace Bell"
Story by Seiko Takase.
Written and illustrted by Rutsuko Aizawa.
73 Pages.
First edition. Printed in Japan.
ISBN978-4-9908999-0-5
Published by Association for the preservation of UN Peace Bell.
1-17-31 Nakzawa, Tama, Tokyo 206-0036 JAPAN
Price 1,500 yen plus tax in Japan
PREVIEW OF THE BOOK
The following PDF file contains the cover, Title page, Contents page, Prologue page, the first story page, the peace bell page, Epilogue page, Afterwords page, and the back cover.
Preview of UN Peace Bell Book
PREVIEW-UN-PB-BOOK.pdf
Adobe Acrobat Document 1.5 MB
WHERE IS THE BOOL AVAILABLE IN US?
The Book is available at the following places in US.
The book is priced $23.00. Shipping & handling charge is additional. For further details, please contact Mr. Miura at NY Seikatsu Press.
RYOICHI MIURA
PUBLISHER & CEO
SHUKAN NY SEIKATSU
NEW YORK SEIKATSU PRESS, INC.
71W.47th STREET, SUITE 307
(Bet Fifth Avenue & Avenue of the Americas)
NEW YORK, N.Y. 10036 U.S.A.
TEL

Cel

FAX

212 213 6451

E-MAIL

URL