1905 – 1972
DEDICATION TO THE CITY AND PEACE,
MAYOR FOR THREE TERMS.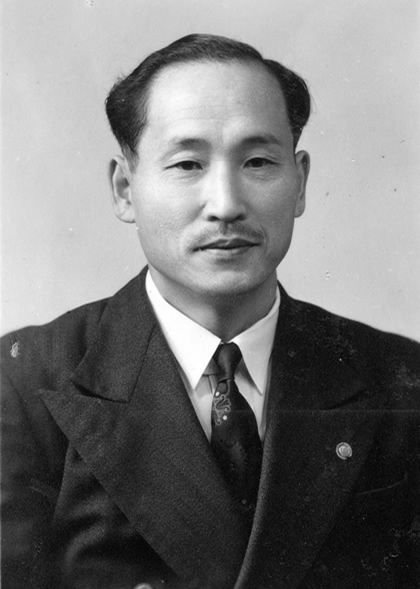 1905
Chiyoji Nakagawa was born on 6 November 1905, as a son of Uomoto family in Mukainada, Yawatahama, Ehime Prefecture. Later he was adopted by Shikataro Nakagawa, a cousin of his father.
Entering Business
After graduated from Waseda University, he joined Yoshu Bank. He quickly got promoted to the branch manager's position at the Yoshida Branch office of the bank.
While he worked for the bank, he took a close look at the canned food industry for local tangerine products. He started a company, called Yoshida Industry, and was appointed to the managing director. Later, he experienced various positions at other companies including Factory Manager of Meiji Seika Manufacturing, Chief Director of Ehime Canned Products Industry Union, and the Chief Director of Nihon Foods Control Union.
Stepping into Political Circle
Shikataro Nakagawa, the foster father, was a prominent figure in the political and business circle. Influenced by father, Nakagawa, who was endowed by nature, stepped into political circle.
1959 – Mayor of Uwajima City
The first opportunity was the mayor election when he was 41 years old. He lost the election by only 6 votes. In May 1959, he was elected as the mayor of Uwajima City. He served for the City and people of Uwajima as the mayor for 3 terms, 9 years.
1972
On February 25, 1972, Chiyoji Nakagawa was sorely missed due to cancer of liver.
He received a medal of Japan's "Senior Sixth Rank, Fifth Order of Merit, Order of the Rising Sun," acknowledging his numerous contributions. On March 4th, the funeral was conducted by the city at the public hall of the city.
Movement for Peace
Nakagawa's not fastidious view and scale was something beyond what an ordinary man can follow. His philosophy and idea are attractive enough to fascinate many people. The fact that he hovered between life and death in Burmese front during WWII, led him to think about the way out from misery of war to peace for everyone in the world. He wished to see the era of no more wars, and planned to make a bell by collecting coins from all over the world so that peoples pray for peace and quiet peoples' souls by the sound of the Peace Bell.
1950 – First Peace Bell
He made his first step toward peace movement. February 1950, the first Peace Bell was cast using his military sword, which he took to the war fields, and coins from 26 countries, and the Peace Bell was installed at Taiheiji temple in Uwajima City.
1954 – U.N. Peace Bell
Based on this experience with the first Peace Bell, a second Peace Bell was cast using nine gold coins donated by Pope Pius XII and coins and medals from 65 countries, and the Peace Bell was installed in the garden in front of U.N. headquarters in 1954.
1961 – Sister Bells
In 1961, when the tension between East and West became very intense, two identical Peace Bells, "sister bells," were presented to US President Kennedy and USSR Prime Minister Khrushchev, one each respectively. Further, replicas of the Peace Bell were presented to the leaders of 140 countries in the world. That way, the Peace Bell under the auspices of U.N. had evolved to become a big peace movement. The Peace Bell, which was born in Uwajima City, is rung at U.N. headquarters, bringing prayer to the souls of people in the world.
1971 – Declaration
On 1 November 1971, to celebrate city's 50 years anniversary, Uwajima City showed its self-governing ability, and declared to become a "city of absolutely peaceful world." Uwajima City, which is located in the South-West of Shikoku island, took the lead toward peace, the earnest wish of man. The long-range ideal was brought about by the belief of Chiyoji Nakagawa.
THE FIRST PEACE BELL, INSTALLED AT TAIHEIJI TEMPLE
A PERSON WHO CARRIED OUT HIS ORIGINAL INTENTION OF THE PEACE BELL:


Chiyoji Nakagawa


BY ZEN-ICHIRO WATANABE, CORRESPONDENT IN EUROPE
Frankfurt
1951
As a moving correspondent, I visited West Germany from Paris at the end of October 1951, and I stayed at a hotel in Frankfurt for a while. The winter comes early in Europe. It gets windy and cold, and sky is covered with clouds, after the middle of October. It is the beginning of depressed season for those who know sunny and clear sky in Japan.
Then there were still traces of the WWII in major cities in West Germany. In Frankfurt, which is a strategic point of traffic on the Main riverside, there were heap of rubble in all places, and the roof of the Frankfurt station was riddled with shots by machine gun.
Construction of new buildings were going on between destroyed buildings. In the bustling street, there were red neon lights twinkling. It seemed to me that all of these facts suggested restoration of the West Germany. In contrast to Paris where people walk slowly, people here walk fast. Somehow that showed the difference between France and Germany.
It was only six years after WWII. I was travelling alone, not knowing the area. Japanese Embassies in Paris, London and Rome were not allowed to reopen then, but put up a signboard which indicated the Japanese Government overseas office. In West Germany, however, even such office did not exist. Needless to mention, however, Japanese tourists were rarely seen and Japanese residents in Europe were just a handful. In Frankfurt, everyday, I never encountered a Japanese.
Encounter with Nakagawa-san
One evening, I got a phone call from the front desk of the hotel. I was asked to come down and help as two Japanese did not speak language well enough to communicate. I knew how one would feel inconvenient while travelling. I thought it would be a pleasure for me to talk in Japanese after a long time. I went down to the front desk, and saw two Japanese there.
One with mustaches was Chiyoji Nakagawa from Uwajima, Ehime Prefecture, and another with beards was the President of Prefectural Assembly, Saga Prefecture. They looked exhausted. After they checked in, I talked with them while we had meals together. I was surprised to hear about the purpose of Nakagawa-san's trip, and felt puzzled. Before he visited West Germany, he visited Paris to attend the U.N. General Assembly.
Nakagawa-san told me that "I am a member of the Board of Directors of Uwajima Chapter, Japan U.N. Association. I wish that U.N. plays a great role in saving the world from the disaster caused by the world war. Establishing lasting peace is imperatively important." He emphasized his belief of "absolutely peaceful world."
Japanese people were depressed because of the first time defeat. Earnest desire for peace was strong. As a Japanese person I understood somehow his point of argument on the "absolutely peaceful world," which sounded like supernatural mind theory, and I pointed out that it would be hard to go in Europe.
Peace Bell
Nakagawa-san was aware of my point very well. He said in Shikoku dialect flatteringly "Therefore, I thought about a way for everyone to understand the meaning of the absolutely peaceful world in tangible manner; ringing a temple bell, praying for peace. That is the Peace Bell."
"Japan was baptized by atomic bombs in WWII. This terrible sacrifice and tragedy is the biggest stain of man, who is supposed to have wisdom. Why wars are fought again and again? It is a problem of human mind. Wars happen because mind is wrong. In order to save mankind on earth from the crisis caused by the world war, I wish to make something tangible that touches a human heart. That is the Peace Bell."
"I would like to donate the Peace Bell to U.N., have it sound loudly, and appeal to peoples' mind through the sound of the Peace Bell, which shall invoke peaceful feeling in peoples' mind. That is my belief."
"I want to make a Peace Bell by casting coins and medals from each nation in the world, reflecting peoples' wishes. Rather than collecting cash donations, I would ask for a single, hard-earned coin if people agrees with the purpose. That is the real reason of my trip to Europe."
If I remember correctly, the conversation went like the above, and if the Peace Bell were to be realized, "I would take it to U.N., and all the expenses shall be on my own account," Nakagawa-san said.
As previously mentioned, people's desire for peace was very strong after WWII, and various peace movements or peace prayer movements flourished. Among such movements, Nakagawa-san's idea, i.e. "collecting coins and medals from nations around the world to make a Peace Bell and donate the Peace Bell to U.N.," was certainly quite unique.
One might ask, however, "Can ringing the Peace Bell bring about peaceful world?" The answer might be "It is not realistic."
The Peace Bell is not what I do not understand as far as I take it as one of the symbols for wishing for a peaceful world. The more Nakagawa-san talked about the Peace Bell, however, the more suspicions popped up initially, such as "He seems to be a little eccentric person," "He must be a self-advertiser," "He might be tied to a certain group," and "He would put it to a commercial use."
Berlin
While I was staying in Frankfurt, Nakagawa-san approached me successively and talked about his theory of peace and the Peace Bell. I had to go to Berlin on business. Berlin was referred to as an "island in the red sea" then, and was the focal point of the Cold War. There was no Berlin Wall constructed yet, but there were many news about the dangerous situations surrounding the border line.
"Please allow me to go along with you to Berlin by all means. Berlin is the place where I have to talk about peace," Nakagawa-san said to me. As it was his sincere desire, we flew together to Berlin from Frankfurt. Nakagawa-san's companion, the President of Prefectural Assembly, Saga Prefecture, parted in Frankfurt.
Nakagawa-san showed a prospectus on the Peace Bell to an American flight attendant. She gave him a questioning look initially. "Okay, understood. I will get you a dime," she said. She got back to him with a couple of dimes. Nakagawa-san was so pleased that he said "thank you" to her more than once.
Well, we arrived at West Berlin, and we spent everyday together; we shared the room, had meals together, and even when I went out of the hotel for business as a reporter, Nakagawa-san came along with me. He felt helpless if he were by himself without me as a stranger in West Berlin, for he spoke only Japanese.
As I visited Berlin for the first time, and my German was shaky, the Berlin bureau of UP (now UPI), a US press, was very helpful for me. Mr. Fleming, chief of the Berlin bureau of UP, was kind enough to take me to wherever necessary to visit.
Soviet Soldier
There is a victory monument of the Soviet Union at one corner in West Berlin, overlooking the Brandenburg gate, which is located in East Berlin then. The monument is where a red flag was held up, when Soviet Union corps led by Zhukov, Soviet general, won a severe street fighting against Nazis bodyguards in April through May, 1945.
In those days, that place was a special district in West Berlin. A Soviet soldier with an automatic rifle was always there. Although people in West Berlin shun visiting, I visited there with Mr. Fleming, his cameraman, and Nakagawa-san, four of us.
We took a picture with a Soviet soldier on duty, and talked about the Peace Bell with a young officer. We did not count on very much, but we were very surprised to see that the Soviet officer picked up a Kopeck coin out of his pocket and gave it to us. Nakagawa-san was extremely delighted.
Mr. Dekowa
Late Michiko Tanaka, a vocalist, used to live in affluent neighborhood in West Berlin with Mr. Dekowa, her husband and a movie director. As I was invited to a dinner, I visited them with Nakagawa-san. Mr. Dekowa was said to be absorbed in philosophical meditation and seemed to be interested in Nakagawa-san's Peace Bell and the Absolutely Peaceful World. Then the time was all for Nakagawa-san, who talked about his belief, that is the road of god and the absolute peace. Tanaka-san, who played the role of an interpreter, was shrieking "I do not understand what he means!"
Needles to mention but coins and old medals were donated by Dekowa family. I guess Mr. Dekowa would have done that in favor of Nakagawa-san's personality and enthusiasm to preach peace, rather than purport of the Peace Bell.
I might have been brainstormed by Nakagawa-san's single-minded behavior as I was travelling with him and sharing a hotel room. I wanted to realize the Peace Bell by all means. I gave him coins from Middle and Near East, and from Europe, that I had in my suitcase. After returning to Japan, I covered the Peace Bell and Nakagawa Chiyoji in Mai-nichi newspaper.
The U.N. Association of Japan
Later on, when he visited Tokyo, he shared with me the status of the Peace Bell and consulted. The United Nations does not accept donation from individuals, but does accept from U.N.-affiliated groups. Therefore, I asked the United Nations Association of Japan for cooperation. Because of such a curious turn of fate, Nakagawa-san and the Peace Bell are unforgettable memories in my life.
1954
The time had come – the idea that sounded too good to be true finally realized. In June 1954, the Peace Bell, 100 cm high and 60 cm diameter, with cast coins from nations in it and letters on the surface signifying "Absolutely Peaceful World, Cheers", was donated in the name of Japan U.N. Association, and was installed in a bell tower in the garden in front of the United Nations headquarters. The name Chiyoji Nakagawa is not found in any place of the bell and the bell tower.
I do not know how much private assets Nakagawa-san had poured into untill the Peace Bell was realized. We cannot overlook kind cooperation by his family members, relatives in his home town in Shikoku, close friends, and other supporters, concerned persons at Japan U.N. Association, among other people.
People do not know much about the fact that there was an unknown Japanese person who maintained his first desire. On the United Nations Day in October, it is a practice to ring the Bell, which must be Chiyoji Nakagawa's long-standing desire, who passed away at age 66 in February 1972, in Uwajima.
The last time we talked together was at a reception party for my eldest daughter. It was Nakagawa-san that I learned about encounter and parting of people and what a man ought to do.
Note: Chiyoji Nakagawa was born in Yawatahama City, Ehime Prefecture, in November 1905. Graduated from the Politics and Ecomoics Department, Waseda University. Prefessional experiences include Yoshida Branch Manager of Yoshu Bank, Plant Manager of Meiji Seika. May 1959, he was elected as the Mayor of Uwajima City. At this election, he claimed that "The election is too much costly. This must be remedied through fare election." His unprecedented election cost only half of the legal expense.
Written by Zen-ichiro Watanabe
Source: Ehimenobunka No.31
Publisher: Association of Ehime Cultural Properties Association
City Declars Absolutely Peaceful World
1 November 1971
While he was in the Mayor's office of Uwajima City, he led the peace movement, and the city issued a declaration of The City of Absolutely Peaceful World [in Japanese text as the picture on the left] in the year of 50th anniversary of the city.
[NOTE: Please refer to the translation of the Declaration below.]
DECLARATION: A CITY OF ABSOLUTELY PEACEFUL WORLD PREAMBLE
Realization of Absolutely Peaceful World is a long cherished wish of man. The way toward realizing this is to awaken the soul of peace in each individuals' mind.
The soul of peace is raised in the closest local society, then spread within a nation and the United Nations, leading to flourishing of ideal of international solidarity in countries and races around the world.
The most important local community for nourishing soul of peace in healthy and vigorous manner is the local self-governing body.
It is impossible for a self-governing body to nourish soul of peace without harmony internally, and cannot seek the peace of the world externally.
We, Uwajima City with 70,000 citizens, strive for harmony to make this city the sacred place of Absolutely Peaceful World, realizing our ideal of the One World.
DECLARATION
We, Uwajima City, on the occasion of 50th anniversary of introduction of the city organization system, showing our real ability, in order to realize the purpose of absolutely peaceful world, declare to become the City of Absolutely Peaceful World.
We, Uwajima City, together with all members of the city, in order to realize the purpose of absolutely peaceful world, practice the following:
1. Based on recognizing the value of sovereignty, we put our heart and soul into respecting the dignity of individuals and human.
1. We promote local patriotism and influence the rest of the world, and strive for realizing the ideal of coexistence and co-prosperity.
1. We solve problems of basic and common worries of human, that is life, aging, illness and death, on the ground of all citizens.
1. Citizens, city council and administration shall play their roles in unison in order to fulfill the peaceful city.
1. Always pray for realizing absolute peace for the nation and the world.
1 November 1971
Uwajima City
[NOTE: The Declaration was amended on 26 June 2013. For original text in Japanese, click the following button to go to the official web site of the city.]
Amended Declaration in Japanese
(Link to Uwajima City's website)
Chiyoji Nakagawa,
who cared people and wished for peace.