HISTORY – PART TWO (1961 TO 1969)
Peace Bell replicas presented to Kennedy and Khrushchev
1961
At the most critical time of Cuban Crisis and Eastern Block-Western Block Crisis, replicas of the Peace Bell were cast. Nakagawa presented them to US President J. F. Kennedy and USSR Prime Minister Khrushchev through their embassies in Tokyo, with a message "a little bit of care and smile can bring about peace."
Picture:
TopLeft – at US Embassy
BottomRight – at USSR Embassy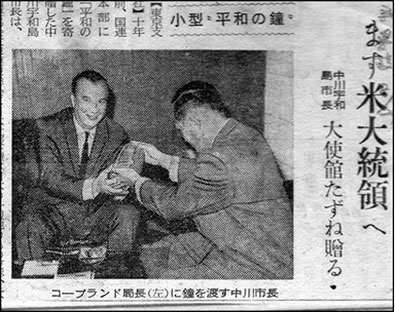 The Peace Bell was rung at Expo in Osaka
1969
It was decided that the Peace Bell shall go back to its old home, Japan, when Expo was held in Osaka, and that a replacement bell to cover the vacancy at U.N. headquarters.
1970
The Peace Bell was rung at the Expo site.
150 Replicas Created
1969
To commemorate the temporary relocation of the Peace Bell to Osaka at Expo, 150 replicas of the Peace Bell were created. Nakagawa brought them to Kamakura by a truck, and a consecration ceremony was conducted at Kamakura Shrine.
Peace Bells presented to 140 Nations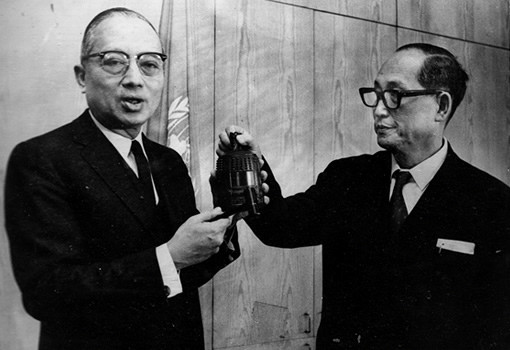 1969
The first replica was presented to U.N. Secretary-General U Tant. Nakagawa visited embassies of 140 nations, sharing his thoughts on peace, presented the bell, and asked them to ring the bell.