HISTORY – PART ONE (1942 TO 1954)
Committed to "No More Wars"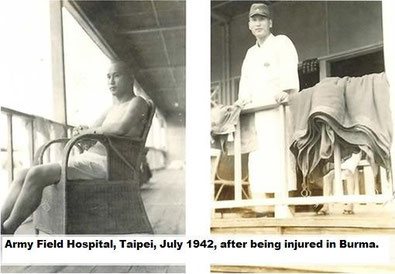 1942
The Peace Bell is the result of commitment to peace, made by Chiyoji Nakagawa, a citizen of Uwajima, Ehime Prefecture, Japan, right after the WWII.
He was enlisted and sent to Burma front, where the regiment was wiped out. Nakagawa was shot at his leg and lost consciousness.
He found himself alive alone in a pagoda, a bell tower. The fact that he survived cruel and misery alone made him feel suffered from a guilty conscience. He committed to himself – his mission as a survivor is to spread his belief "no more wars."
[Picture: Army Field Hospital, Taipei, July 1942, after being injured in Burma.]
The First Peace Bell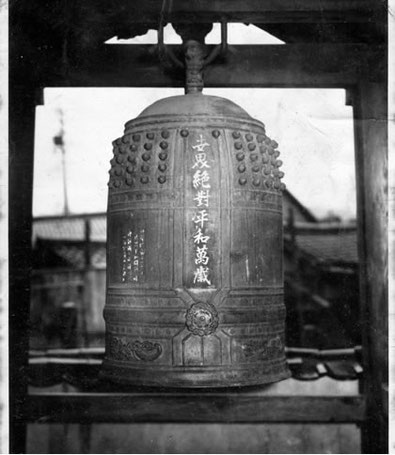 1950
In 1950, Chiyoji Nakagawa learned that his family temple, Taihei Temple, lost its bell as it had been contributed under the war.
He had a bell cast using his own military sword and coins that had been collected from 26 countries, and donated the bell to the temple.
The bell has eight Kanji letters molded, which means "Absolutely Peaceful World, Cheers" reflecting his commitment to peace.
A Replica of the Bell for Emperor
In 1950, the emperor paid a visit to Uwajima, and a replica of the Peace Bell was presented to the emperor.
Proposal to U.N.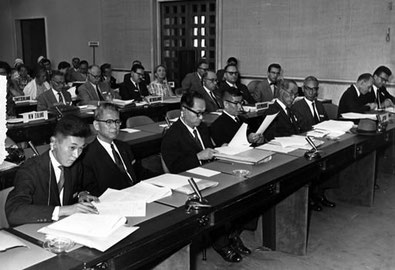 1951
In 1951, the 6th U.N. General Assembly was held in Paris. Japan was not a member then.
Chiyoji Nakagawa attended the meeting as an observer representing Japanese U.N. Association. He proposed to make a bell using coins, that were to be contributed by people who wish for peace around the world, and to be donated to U.N. and rung. He brought the recorded sound of the peace bell from Taihei Temple and played the sound tape for the audience.
Activities Launched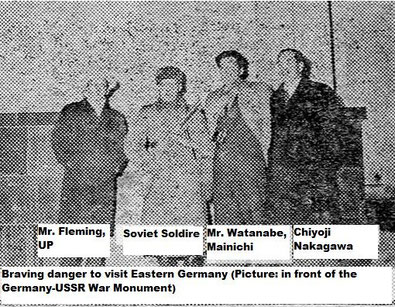 1952
In 1952, the United Nations Economic and Social Council approved to accept the Peace Bell, as a token of the voice of people who strive for peace, and commemorating the completion of the U.N. headquarters building.
The fact that U.N. accepted the proposal made by a person from Japan, which was not a member of the U.N. then, was a miraculous event.
Chiyoji Nakagawa received coins from U.N. representatives from 65 nations; he received gold coins of Jesus Christ and Virgin Mary from Pope Pius XII at Vatican Palace; he received Kopeck coins from a Soviet Union soldier holding an automatic rifle in Berlin at the time of the Cold War.
That way, Nakagawa started his activities to share his idea of the World Peace Bell, across different nations, races, principles and religions.
Contributed Coins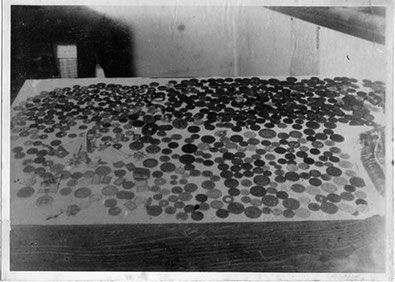 In Japan, people in Uwajima City and other parts of Japan, who sympathized with Nakagawa, offered cooperation.
Old coins and current coins weighing 112.5kg, Japanese sword guard, bullets, copper badges, badges from religious sects, and copper sheets of shrine, among other things, were contributed.
Rendered Cooperation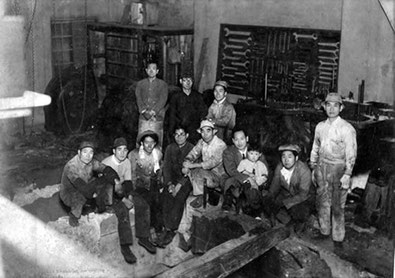 Casting of the Peace Bell was carried out by a distinguished Tada Foundry, headed by Jonosuke Tada, the fourteenth head.
The construction of the bell tower was carried out by Rinpei Ooshita, a carpenter specialized in shrine and temple architecture, in Uwajima City.
Both of them sympathized with purport of Nakagawa, and accepted the request for work for free of charge.
The Peace Bell Completed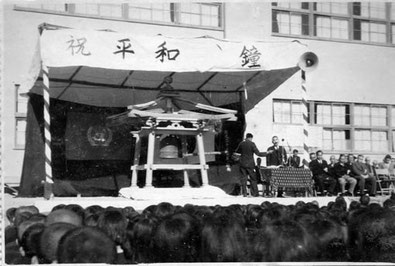 1953
In May 1953, the Peace Bell send off party was held at Jonan Jr. High School, Uwajima City.
The unveiling ceremony of the Peace Bell was attended by 1500 school boys and girls of elementary school and Jr. high school with attendance of the Mayor of Uwajima City and superintendent of education.
Sending the Peace Bell off to New York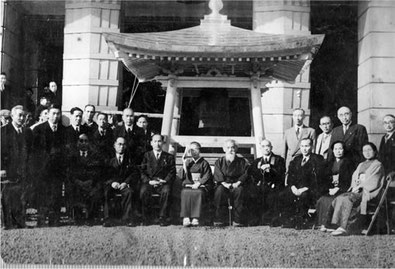 In December 1953, with attendance by Ex-princess Nashimotonomiya, the send off party was held sublimely in front of the main entrance of Kanagawa Prefectural Office Building.
The Peace Bell was shipped from Yokohama Port to U.N. Headquarters, New York.
Sands Sent to NY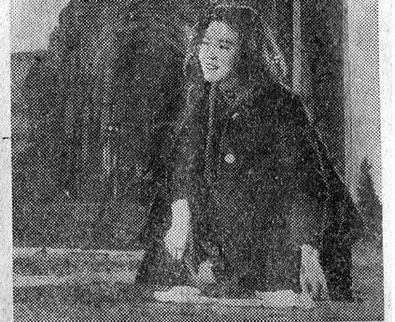 A handful of soil was received from a chief priest of zen temple who was suffered from A-bombing in Hiroshima, and from a school girl in Nagasaki [picture], a Christian, respectively.
They wished the soil to be buried under the foundation stone. The soil was sent to NY together with the Peace Bell.
Arrival of the Peace Bell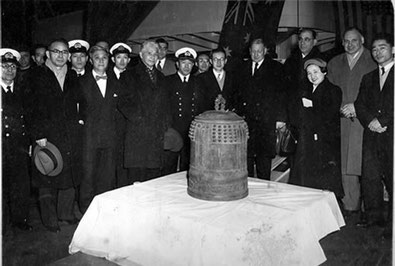 1954
In March 1954, the Peace Bell was carried by Tsuneshimamaru of Iino Kaiun, a sea freight company, on her maiden voyage, and arrived at New York.
Iino Kaiun was kind enough to do the transportation for free of charge.
Presentation of the Peace Bell
On 8 June 1954, with the attendance by Renzo Sawada, U.N. Ambassodor and Benjamin Cohen, U.N. Deputy Director-General, a ceremony of the presentation of the Peace Bell was conducted.
Sawada was a great supporter and cooperator for Nakagawa.
Regretfully Nakagawa could not make it for financial reason, failing to attend the important ceremony in NY.